Free scrunchie with every leotard or crop set!
Free UK delivery over £75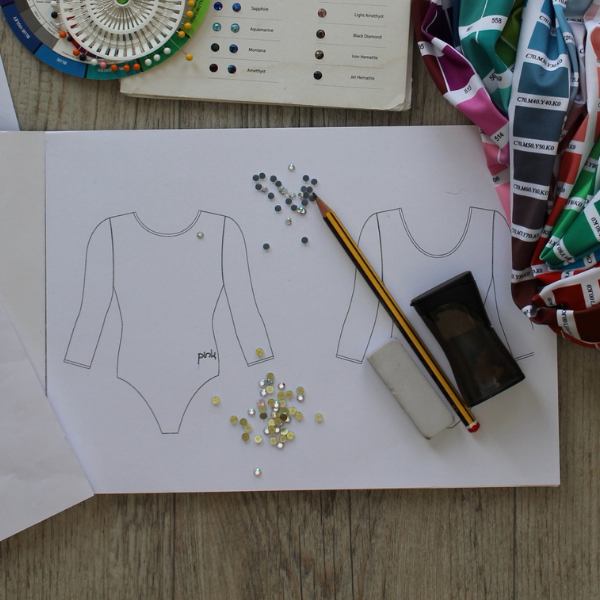 There are 3 responses to a design...
yes, no & Wow!
we aim for the Wow - every time
complete your personal design consultation
work with our designer from sketch to reality
choose the design you love and receive your free sample
Product Options
We have many product options available to you:
Pink
Long sleeved & 3/4 length Competition Leotards. Every leotard purchased includes a hair scrunchie and zip up garment cover
Sleeveless warm up and training leotards
Crop Sets
Crop Tops
Shorts
Leggings
Matching Tote Bags
Acro Leotards
Cheer Leotards
Unitards
Blue
Leotards
Acro Leotards
Shorts
Longs
Unique or customised
We have various options to suit your budget and brief. These options are also available for gymnasts attending National and International events.
Unique – We can create a design that is entirely unique to your club.
Customised – Choose one of our current designs for us to customise with your club colours and preferred materials and sleeve length
Your club leotard will be available to your club for as long as you require it.
Placing your order
Generally we advise that you allow yourself around 3-4 months from start to finish if you want a sample producing first and don't want to be rushing decisions. It can be done much quicker if you are ordering a customised Pink design and don't require a sample.
Please allow around 6 weeks from design sign off to your sample arriving.
Once you have placed your order with us, we will request a 50% deposit. Upon payment of this deposit, production will then begin and take approximately 6-8 weeks.
Once production is in the final stages, we will then contact you to request the final balance payment prior to delivery.
We advise that you allow yourself sufficient time for the design process depending on how quickly decisions can be made by the Club.
Minimum order quantities (MOQ)
Unique orders have an MOQ of 15, for any future orders there will be an MOQ of 6.
Customised Club design orders have an MOQ of 6.
Frequently asked questions
Q) Do I need a design brief?
A) A design brief can be helpful if you have specific ideas but is not necessary. We will work closely with you to produce a design you love!
Q) Can you reproduce a design that I really like?
A) We take pride in being original and we wouldn't copy another company's design. We would be happy to take some inspiration from your favourite ideas! This also means that your Unique design will be for your club only! If you have chosen a customised Pink leotard, we guarantee that we would keep this design unique to your club.
Q) Can we have a sample design made and is there a cost?
A) Your first sample is free when you go ahead and place a full order. If you do not proceed with an order then there will be a cost involved dependant on style, stones etc.  If amendments are required and therefore a second sample is requested, this will incur a charge
Q) Once we have received our sample can changes be made?
A) Yes! It is important to us that you love your design so of course further changes can be made. If you require another sample that would be no problem
Q) Can we speak in person to the designer?
A) We pride ourselves on our customer service and our designer will be available to chat or zoom as you prefer.
Q) Could we get a current Pink design made in our Club colours?
A) We can fully customise any of our current designs! If you let us know your Club colours, we can provide you with a selection of mock ups to show you different colour way options.
Q) Do you provide a scrunchie with each leotard?
A) We do! Both our sleeveless and long sleeved designs come with a matching scrunchie. Also, all of our ¾ and long sleeved designs come with a zip up leotard cover.
Q) Will our members be able to order direct from your website?
A) This is not a service that we currently offer. The club will need to place any orders.
Q) I am putting a design brief together, what would you like it to include?
A) Please include your Club name & preferred colour way, your expected order quantity and any design preferences you may have (e.g. neckline, sleeve length and fabric). If you can, please also include the date you would require the order for and your budget per leotard. If you have anything that you would like to avoid, please pop this in the brief.
Q) What sizes can you provide?
A) We can provide sizes from Childs Extra Small (CXS 20″) to Adults 2 Extra Large (A2XL 40″).
Q) What type of rhinestones can you provide?
A) We offer a large variety of rhinestones, all in different colours, and sizes. We also offer Swarovski rhinestones!
specials for national & international events
We love to get out there in the arena with you!  We can provide 'one-off' individual designs for your special event. Please enquire with your details as we consider each application individually.
Club Design Gallery